The First Annual Green City Challenge Competition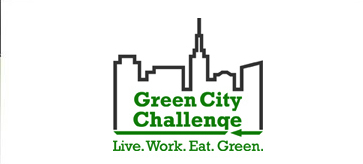 New York, NY – On Sunday, October 17, 2010 the first annual Green City Challenge will take place in Lower Manhattan.  Contestants will race from one green business to another on bicycles and complete challenges that demonstrate their knowledge of how to live, work and eat green.  They will earn giant jigsaw puzzle pieces and solve clues in their quest to reach the finish line. This event is designed to be fun and educational for New Yorkers who are already green as well as for those who are curious and want to learn more about ways to live a sustainable lifestyle.
This unique event begins promptly at 12 pm at La Plaza Cultural Community Garden on Avenue C and East 9th Street in the East Village.   It concludes at Solar One on East 23rd Street at the East River at about 4 pm where the winners will be announced and prizes will be presented.  An Eco Fair featuring green products and services will also take place at Solar One from 3 – 5 pm that is free and open to the public. 
Green City Challenge is a non-profit organization with the mission of inspiring New Yorkers to live green, work green, and eat green.  FJC: A Foundation of Philanthropic Funds is the fiscal sponsor for Green City Challenge.  For more information please visit www.greencitychallenge.org.